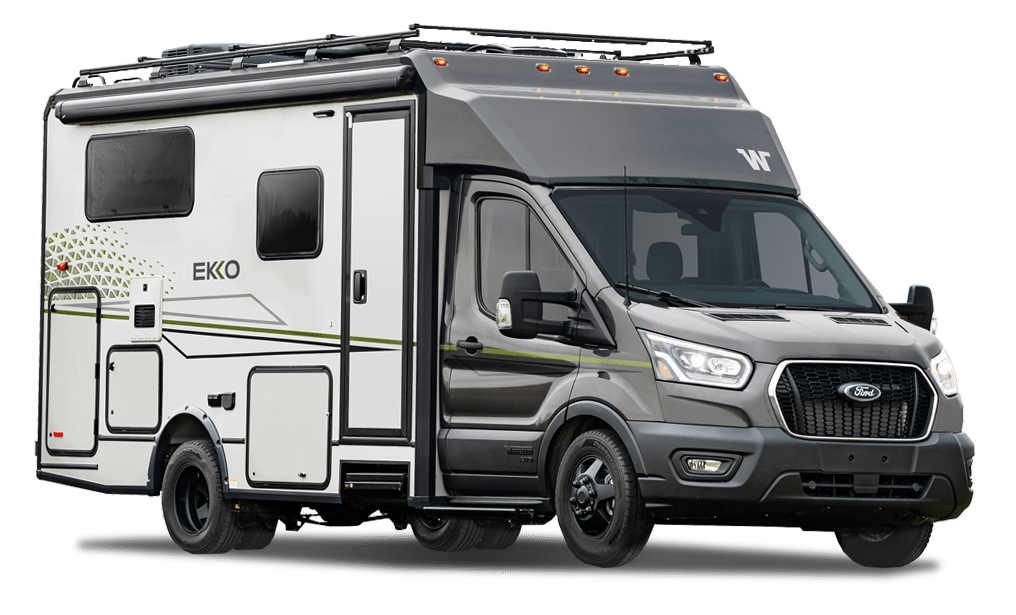 The EKKO
Winnebago's all-new EKKO combines the compactness of a B + class with the extra capacity of a C-class. Add to that all-wheel drive to create not just a new model, but a whole new kind of RV!
A picture is worth a thousand words!
Ekko Extérieur
FORD TRANSIT 4X4 CHASSIS
The 3.5L EcoBoost V6 engine produces 310 horsepower and 400 lb-ft. of torque, while the 31-gallon fuel tank greatly expands the range of the EKKO. Standard safety features include adaptive cruise control, lane departure warning system, pre-collision braking, driver alert and more, as well as the blind spot monitoring system added by Winnebago.
READY FOR THE OFF-ROAD
Camp almost anywhere! Three solar panels that pump 455 watts, a second alternator dedicated to charging batteries while driving and standard lithium-ion batteries provide additional energy independence. The 50 gallon fresh water tank and proportionate waste tanks allow for extended stays.
4 SEASONS
With all tanks and water pipes inside the RV and above ground, full 4 season insulation in the roof, walls and floor, double glazed acrylic windows and several insulated exterior compartments, the camping season can be extended all year round!
THE COMFORT OF HOME
A fully equipped kitchen with energy-saving appliances, the Flex Bed system with the new innovative WinnSleep system and a dry bath (model 24C) or an innovative wet / dry bath with pivoting wall that separates the shower area (model 22A), will make you feel at home everywhere. Guests on board? No problem, thanks to the dinette seats with three-point seat belts and child seat anchors, not to mention the extra sleeping capacity – and penthouse views – from the optional sunroof (Model 22A).
Ekko Intérieur
Following Your Request
---
Your St-Cyr VR advisor will plan with you a time slot to discuss the different options offered by the vehicle that interests you.
Following this discussion, whether online, over the phone or in person, you will need to complete a funding application (if necessary) and subsequently, a sales or pre-sale contract will be sent to you.