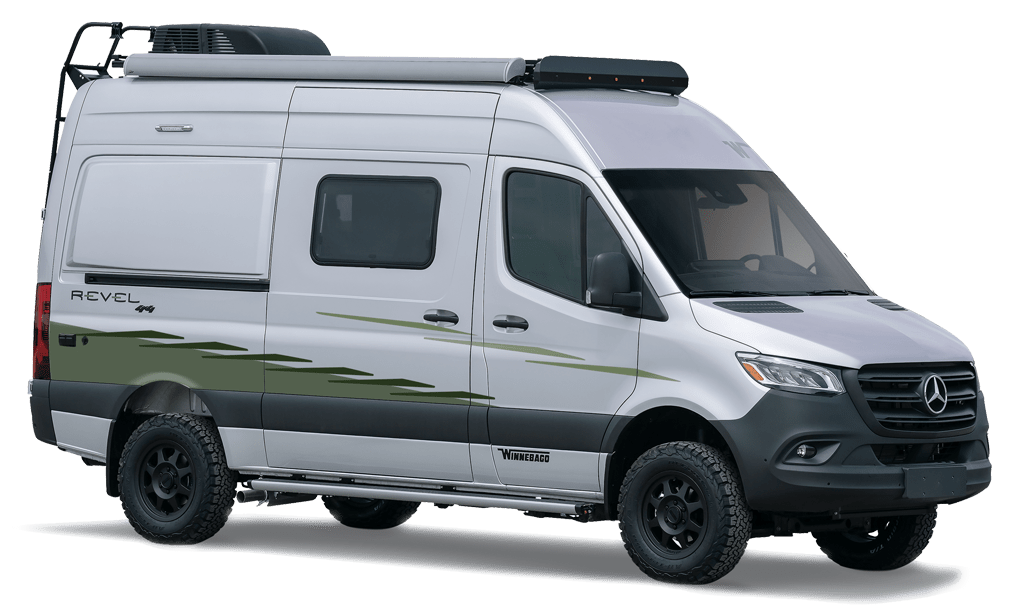 The REVEL
Built on the new Mercedes-Benz Sprinter chassis, the Winnebago 4×4 Revel is your perfect companion for an off-road vacation! Compact and functional, with these 4-wheel drive and powered by the reliability of a 3-liter turbo diesel engine; you'll never see caravanning the same way again!
A picture is worth a thousand words!
Revel Extérieur
EXTENDED HOLIDAYS
Enjoy your vacation longer and more comfortably thanks to two 125 amp LiFePO batteries that you can monitor via Bluetooth and the new hydronic heating system which offers comfortable and quiet heating, controlled by a touch screen panel.
PRACTICAL-PRACTICES
The electric lift bed turns your living space into a garage with additional storage, easy access to the lithium system, a new internal fresh water tank and a streamlined center panel.
SUSTAINABLE INTERIOR
The new interior colourway, Intrepid (with Silver Springs or Pewter cabinets), features easy-to-maintain surfaces, sturdy vinyl flooring, reverse moldings at the base of the cabinets, folded aluminum cabinets and positive-locking latches.
Revel Intérieur
Following Your Request
---
Your St-Cyr VR advisor will plan with you a time slot to discuss the different options offered by the vehicle that interests you.
Following this discussion, whether online, over the phone or in person, you will need to complete a funding application (if necessary) and subsequently, a sales or pre-sale contract will be sent to you.